What are post-surgery compression garments?
LIPOELASTIC® post-surgery compression garments are designed for postoperative treatment following plastic-aesthetic procedures such as liposuction, abdominoplasty, facelifting, necklifting etc.
---
Why you should use post-surgery compression garments

Compression garment is an inseparable part of postoperative care . In some cases, not wearing the right post-surgery compression garment can lead to critical consequences. Among these can be a significantly different result of the procedure than that which the patient was counting on.

Another reason in favor of using post-surgery compression garments is that it speeds up the healing process and therefore the client can make a quick return to everyday activities.

2-4 weeks after procedure

100% of patients who use post-surgery garments return back to everyday activities faster than those who do not use the under garments after the surgery.
---
What does compression therapy ensure?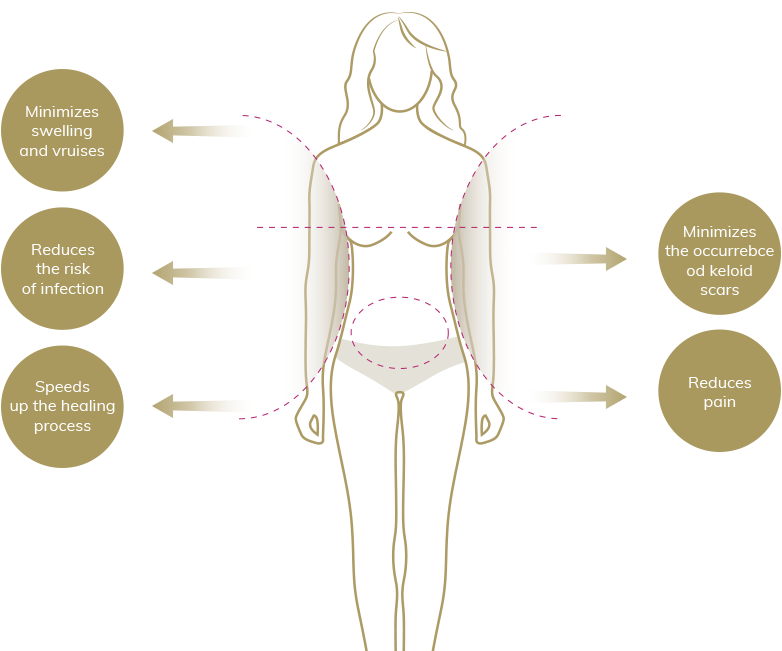 ---
Benefits
---
CERTIFICATION OF MATERIALS

Top-quality materials, custom-made by producers in EU, are used for LIPOELASTIC® garments. All materials are regularly tested at the Textile Testing Institute TZÚ in Brno - Czech Republic.

The key criteria, carefully monitored, are the parameters of longitudinal and cross-section compression of textiles. These tests are carried out in accordance with the methods of the company DuPont, a world-renowned producer of elastic fibers under the Lycra trademark.

These regular tests enable us to guarantee our partners the required compression of garments ranging from 20-30 mmHg. The individual garment types are put on torsos simulating particular body parts and continuously tested using the measuring device MST MK IV from the Swiss producer Swisslastic AG.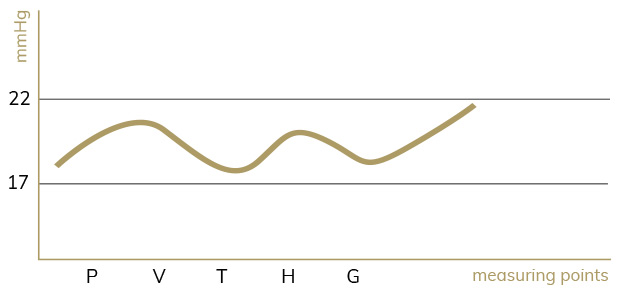 ---
Material certificates
---
Certificates of quality assurance
---
CLASSIC material
A long-proven and now new and improved collection..
---
RIB material
A new material made especially for LIPOELASTIC. Its compression ensures tightness around the body without the need for double underlay. The material is very comfortable for everyday wear and very pleasant to the touch. The material can be used for both the first and second phase of post-operative care.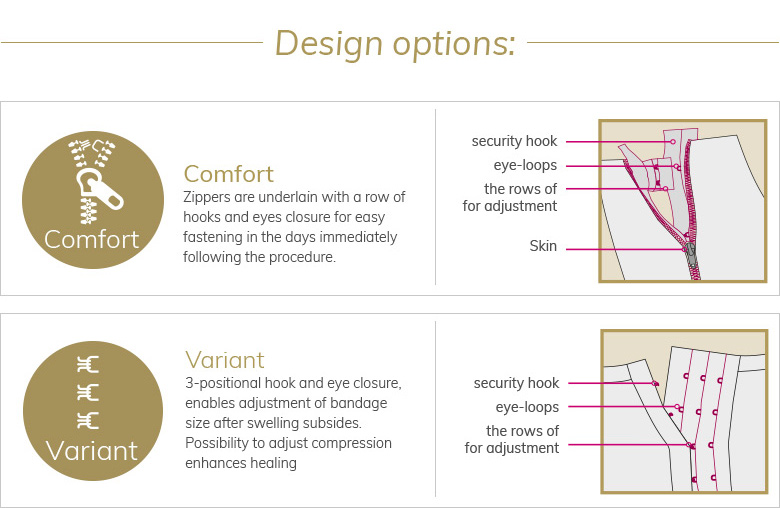 ---
UNIQUE material
UNIQUE compression garments come in the second stage of therapy which is less painful. During the summer can be used for the fi rst and second stage of post-operative care due to its maintain microclimate. UNIQUE material is literally unique in the plastic and aesthetic surgery market and has no competitors.